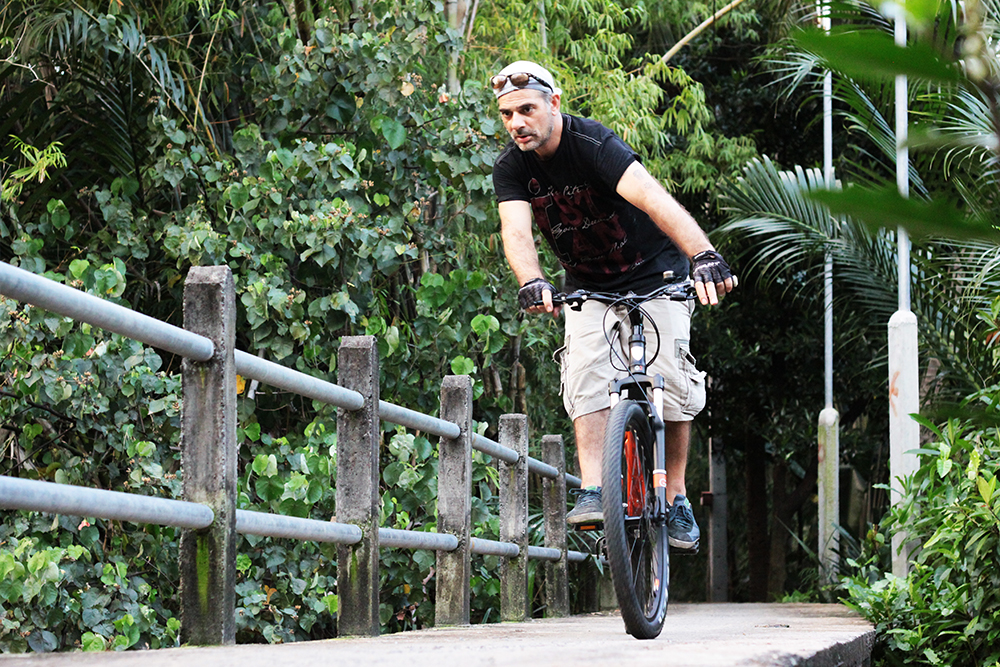 BANGKOK URBAN OASIS BIKE TOUR
Bicycle tours in Thailand
Bicycle tour Bangkok
On this bike tour we take you across the Chao Phaya on a 5 minute trip on a long tail boat to discover a side of Bangkok few people know of. The scenery will totally change from skyscrapers to luxuriant nature, with banana and coconut trees all around. From busy traffic road to serene narrow walk way. From roaring sound of vehicle engine to cherping sound of birds and a sound of wind breezing through bamboo and tree leaves. It's a true paradise for bicycling in Bangkok. This is a place where land surrounded by Chao Praya river becomes an isolated island. Time magazine, "The best of Asia 2006", gave this place the best of urban oasis. This place is called Bang Krajao and is known as Bangkok's lung. It is in Prapradeang district of Samutprakarn province. Cycling through this area, out of the city's pollution, you will notice the slower pace the locals lives at. You will spot Monitor lizards rushing into the water as you pass by and occasional turtles on the road side. The area of 30.89 sq. meters acts like a filter clearing urban pollution. This area is to be preserved as a green zone. The majority of the land is occupied by orchard with houses within fair distance from each other. The atmosphere is peaceful in the shade of trees. This is a trip will surprise you, Quietness so close to Bangkok's chaos is like heaven on earth.
Itinerary
Meeting at Rama III soi 66, Ruayroongreong market (Nang Linjee intersection), Our tour guide will wait for you right there with bicycles for you. Once all set up is done we will cycle to a pier the embark the boat crossing to the other side of Chao Praya river. Once we disembark, the journey begins. We will cycle pass through banana orchard, coconut orchard to Sri Nakarin conserved Forrest park for pinic style lunch in the park
Facts &
Information

Price
2,600 baht 2600

Difficulty
Easy

Duration
The ride is a total of 25km. and the tour takes approximately 6 hours, usually finishing at around 3 pm but this is variable by group.

Group Size
2 - 12 persons

Conditions
Some of the canal paths are elevated and quite narrow and we advise caution on these sections but otherwise it is a nice and easy ride. Anyone who can ride a bike will enjoy this ride.

Bikes
Imported 24-27 speed TREK mountain bikes.