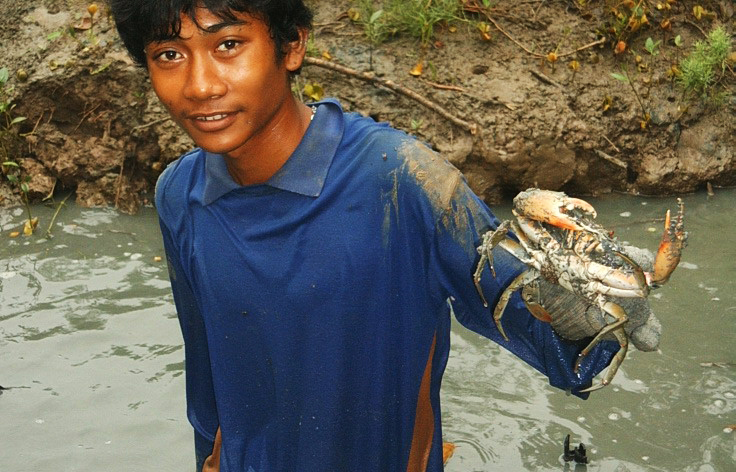 BANGKOK SHORE BY BIKE
Bangkok Bicycle Tour
Bicycle tour in Thailand
Bang Khuntien is the only one place in Bangkok facing the gulf of Thailand. Not only is it an important eco-tourism destination with Mangrove Forest but it also has the only surviving fishing community of Bangkok. They protect the coastline and prevent land erosion by collecting sediment from the rivers and streams and slowing down the flow of water. The forests also are the nursery grounds for juvenile fish, crabs, shrimps and mollusks. The total length of the ride is about 35 km mostly flat and away form main streets so there's less cars therefore it is suitable for kids and beginners. Along the trail, you will meet friendly local people, fish farm, salt pans, fishing villages, beautiful Thai style houses and community life especially the only fishing community left in Bangkok. The start 3.7 km of the trip is the Bang Khuntien nature study wood trial which is the high light of this trip. It is where we can see various types of birds, crabs and fish.
Itinerary
Meet at the Velo Thailand Cycle Shop, Sam Sen 4 rd. at 8 am. Then transfer by car about 30 minute to the starting point. After bike setting and briefing we head out. Bike riding through the back road ride along some dirt roads all the way down to the Gulf where we'll have a delicious lunch at a water's edge restaurant. We continue traveling along the Gulf, through the fishing village and Sea aquarium. After to see the life under water we will cycling back to the starting point, bike riding through the quiet back road ride around fish farms and salt pans. The ride is a total of 35km and the tour takes approximately 6 hours, usually finishing at around 3 pm but this is variable by group.
Facts &
Information

Price
2,600 baht 2600

Difficulty
Easy

Duration
6 hours(~35 km)

Group Size
2 - 12 persons (minimum 2 person)

Conditions
We cycle about 35 km on flat and quiet back roads and some sections on dirt roads. There are a couple of times that you will have to carry your bike on and off the canal and over foot bridge

Bikes
Imported 24-27 speed TREK mountain bikes.