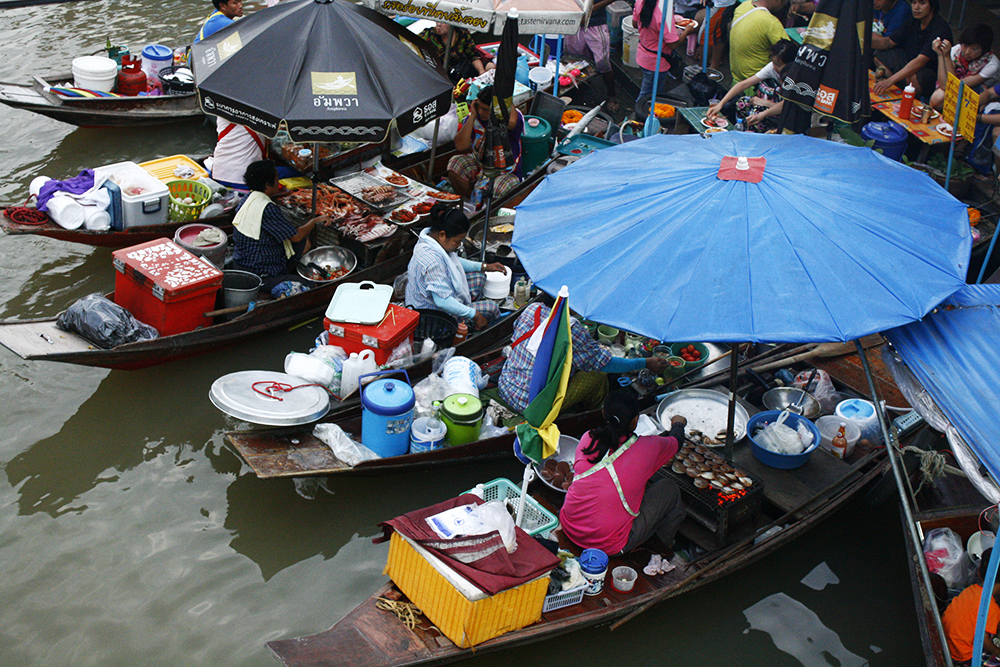 FLOATING MARKETS plus Bike and Boat
Bicycle tours in Thailand
Floating Market Bicycle tour
When Talad Nam Damnoen saduak or 'Bangkok's' Floating Market was revealed to the world as new tourist destination for the first time in 1967 more than 40 years ago, the place was clumped with small row-boat loaded with various kinds of commodities necessary for living by venders dressed in traditional ways and worn "ngob", a hat made from palm leaves, trading with each other on their boat. Nowadays, this floating market is renown all over the world and has become one of the must be visited place. Damnoen Saduak's Floating Market is more than hundred years old. It has become a trading place for villagers who lives around the area since King RAMA IV ordered Damnoen saduak canal to be dug.The area had no access road and most of the people around here used boat to communicate in daily life. In fact the whole area still lives around Klong (canals). Damnoen Saduak Klong connects 2 main rivers in the area, Mae Klong and Tha Jean . The canal was built in 2 years. For tourists who visiting this place, it is a spectacular sight to see hundreds of boats loaded with goods. Although it has lost some of its charm to allow for the increasing number of tourist visiting every year, Damnoen Saduak's market village is an amazing place and has still kept its original purpose and is very different from the recently organized floating market in many other provinces.
Itinerary
Your tour-guide will pick you up at your hotel in Bangkok at around 6:45 to 7:15 in the morning. We will travel by van for about an hour to our destination. We will have a short brake on the way at Talad Sieng Tai, translated literally is Risk Your Life Market, to walk around observing commodities from sea traded here. The next stop will be visiting the Ton Mapraw Num Tarn village to watch how Palm sugar is produced. Then we will arrive at the famous Dumnersadauk Floating Market. You will have a chance to really feel the atmosphere of floating market by going into the row-boat and row along the canal in the middle of vendors' boats, boats which selling fruits, foods, sweets, and local creative merchandises. Once disembark from the boat, we will start our bicycle tour. We will cycling pass through coconut plantation, orchard, visiting Mongkok temple which is covered by Bhodi Tree and ancient barracks. We will traveling slowly to visit the other old temple which has fabulous woodcraft before take a brake at Ampawa floating market, another famous floating market known by Thai tourists. Ampawa is also another attractive floating market with many vendor selling foods and all kind of handicrafts. After visiting Ampawa, we will continue cycling on the quite road through the village. Many old temples which have beautiful mural painting and green marble floors will be visited. If we are lucky, we will have a chance to taste the most delectable ice coffee and nice ice tea in the area before going back to Bangkok
Facts &
Information

Price
3,400 baht 3400

Difficulty
Easy

Duration
Full Day(~25 km)

Group Size
2 - 10 persons (minimum 2)

Conditions
fully supported day ride Inclusions support vehicle, ferry, bicycles and helmets, lunch, water on the ride, boat ride at floating market and local tour guide.

Bikes
Imported 24-27 speed TREK mountain bikes.