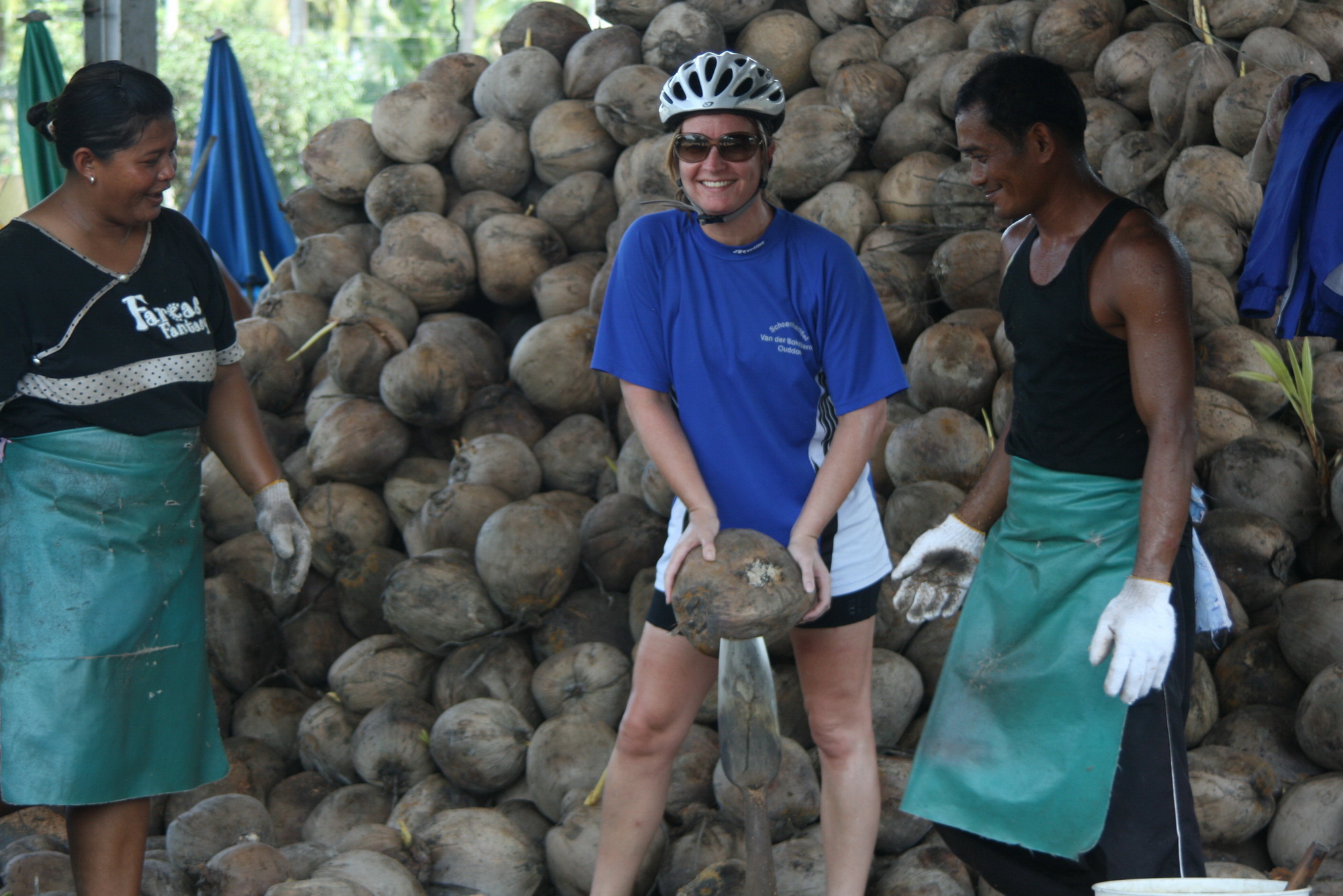 CYCLING ALONG THE COAST TO SAMUI
Bicycle tours in Thailand
Bicycle tours to Samui island
Designing this route was not an easy task but we've done it : From Bangkok to Samui !! Since the road leading to the south of Thailand is one of the busiest in the country we had to look for back roads and beach front roads. Thanks to our own experience and various tips from local cyclist the route avoids the most dangerous section of the road to the south of Thailand and focuses on the many points of interest along the way. You might ask yourself why cycling ? why not fly or take a bus to Koh Samui ? What matters isn't the destination ( although in this case it also does) but the journey, that is what everyone who has once travelled by bike will tell you. With the peaceful route, slow traffic road, beach, This trip goes and lives the same way thai people do : slower.... . You will learn more about Thailand during this 5 days trip than you'd learn in a month as the average tourist does. you will discover the heart of the country and more than a holiday, it is an experience. Taking a break at any place, any moment to take a photo or to see what you would like to see more closely touring by bike is a great experience.
Itinerary
Day 1 | Bangkok to Hua Hin | Distance 34 km. Drive from Bangkok it is 2-3 hours transfer to Hua Hin and the start of your ride. Today's ride is an easy ride following back roads through small towns and along quiet coastline. In Pranburi you'll stay in a comfortable resort right on the coast, well away from the bustle of Bangkok where you started the day. Day 2 / Hua Hin to Prachuab Khiri Khan | Distance 68 km. Cycling on quiet roads and beaches that suitable for the day's cycling. The highlight of the day is cycling through the limestone mountains ofSam Roi Yod National Park. If you're really lucky you might even see a monkey hanging on the rocks. Prachuap Khiri Khan Province is located at Beautiful curving beach and a small provincial town. You can feel relax and not feel annoying of Tourists crowded. Day 3/ cycling to Ban krut Beach/Distance 70km. Departure from Prachuap Khiri Khan Province the deal and the path that we plan to put through the Airforce and the runways of them to visit the monkeys is that the gentle animals and continue cycling just little further down the road we will stop at Waghor Aquarium, the center of the incredible wonders of the best underwater world of this coast. You will riding Through the narrowest part of Thailand. It's just 11km. wide and also you can see the ridge on your right marking the border with Burma. You are riding on a mixture of sealed and unsealed roads through the fishing village of Ban Krut Resort and lovely people on the coast. Day 4 | Cycling to Chumphon / Distance 50 km. This cycling takes you along the beautiful coastline and beaches. But also through the orchards and rubber tree, we will stop at a rubber plantation to learn about the long process of taking the SAP of the tree and turns it into a tire and a condom and we will have lunch at the end of the trip after that We transferred to Chumphon north of the main town and ferry you to enjoy the beautiful night of Thailand. Day 5 | Ferry to the island It 's a good morning to make it in time for the ferry in the early morning to the island of your choice: Koh Tao, Koh Phanngan or suitable locations where you want to have a good time at the island, we have provided a transport transfer to take you or If you want to go back to Hua Hin or Bangkok, we also can transfer you by our nice support vehicle.
Facts &
Information

Price
**24,000 Baht-joining tour / single room optional for 6,500 baht **24000 Baht-joining tour / single room optional for 6500

Difficulty
Easy

Duration
5 days Bangkok to Ko Samui

Group Size
2 - 14 persons

Conditions
**Private Tour. This tour can depart at any time for private groups for the following prices: 1 person: 55,000 Baht. 2 people: 32,000 Baht. 3 people: 29,200 Baht. 4+ people:27,800 Baht. The tour can depart only 1 pax price is 55,000 baht. fully supported cycling Velo Thailand Leader This tour will be led by our highly experienced and knowledgeable Thai cycling guide.

Bikes
we use imported 24-30 speed GT, GIANT, TREK mountain bikes.