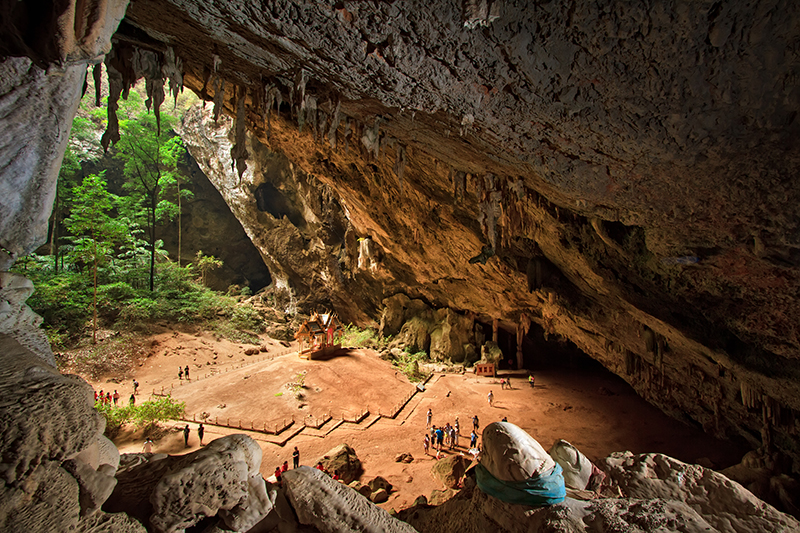 300 Peaks National park / Sam roi yod
Sam roi yod national park is the first national park that encompasses both a marine side and a land side. The park is mostly covered with an intricate system of limestone mountains chain that runs from the north of the park to the south for around 30 kilometers and boasts as well 6 beautifull islands ranging in sizes. Thousand years of rainfall and hard sun have eroded the limestone mountains sometimes giving birth to majestic caves system. One of the most famous caves around is the spectacular Phraya Nakorn cave where a beam of light comes down on a shrine dating from King Rama 5 reign. There are 3 distinct ecosystems in the Park, The limestone mountains,the flood lands and a closer to the beach a mangrove like surrounding. they also determines the fauna and flora that can be seen around the park. The limestone mountain are is home to some rare species of plants and wild goats while the wetter area are a great breeding ground for small fishes and hosts more than 316 species of birds
Itinerary
Hotel pick at 7h00 am after a quick bike fitting we will driving with the bikes to Sam roi yod national park where we will start with a short walk up a mountain to the view point. We will then start cycling and make our way to Sam roi yod national beach. You will see a lot of shrimp farms and and canals on the way to the beach where we will relax a little before going to the next village and finally make our way towards Phraya Nakorn cave. The access to the cave can only be done by foot and it is really worth the effort. A nice day cycling and discovering the Park as well as nature. The tour includes : pick up and drop off at your hotel in Huahin, local guide, Entrance to the national park, Long tail boat , drinking water on the ride, lunch, snack, bicycle with helmet and support vehicle during the ride
Facts &
Information

Price
3850 THB baht 3850 THB

Difficulty
Easy

Duration
we cycle about 20 km. on flat, anyone who can ride a bike can do this ride.

Group Size
2 pers. min 10 pers. max

Conditions
This tour operates every Tuesday . If you have a minimum group of 4 adults or more (or willing to pay the cost of 4 adults), we will run the trip for you on any day of the week (subject to availability). Please note that should wish to book this tour one or two days before you want to travel with us you should call to confirm your place: office hours 032 900 392, after hours or when we are all out on tour 089 201 7782. Special for kids! We have a range of kids sized bikes, tag-along and even a child seat. And to help families we offer discounts to all children aged 17 years and below:    Ages under 4 years - FREE!    Ages 5 to 11 years - 50% off    Ages 12 to 17 years - 25% off

Bikes
we use imported TREK MTB. 24-27 speed.